Classes
Convenient, central location!
free & easy parking!
Located in Mid City LA
(Easy I-10 access, free parking)
5429 W. Washington Blvd.
Los Angeles, CA 90016
---
Winter/Spring 2017
Classes are ongoing and you may jump in at any time.
Your first 'audit' class is at no charge. After the audit class, you will be placed in the appropriate level. Even if you are beginner and the below schedule does not meet your needs, we would still like you to audit. Please contact us!
NOTE: classes added as needed; please contact us and we will do our best to accommodate you!
Mondays – ADVANCED IMPROV 3.0
Advanced level with instructor Matthew Moore
includes shows throughout the year
7-9:30pm
$150/month
Tuesdays – INTRO to IMPROV 1.0
Intro level with instructor Andrew Wulc
start here if you think you may be interested in improv
7-9:30pm (upstairs in artist loft)
$150/month
Tuesdays – INTERMEDIATE IMPROV 2.0
Intermediate level with instructor Matthew Moore
includes shows throughout the year
7-9:30pm
$150/month
Wednesdays – INTERMEDIATE IMPROV 2.0
Intermediate level with instructor Matthew Moore
includes shows throughout the year
7-9:30pm
$150/month
Wednesdays – INTRO to IMPROV 1.0 – MidCity
Intro level with instructor Ava Abdoulah
start here if you think you may be interested in improv
7-9:30pm (upstairs in artist loft)
$150/month
Thursdays – INTRO to IMPROV 1.0 – MidCity
Intro level with instructor Brian Nelson
start here if you think you may be interested in improv
7:15-9:45pm
$150/month
Tuition is due the first week of the month. If you must miss a class you may participate in a different class the next week… four (or five!) classes per month will be available to you. Sorry, we cannot prorate the tuition.
What IFTP members are saying:
http://www.yelp.com/biz/improv-for-the-people-los-angeles
---
IFTP Open House on March 18, 2017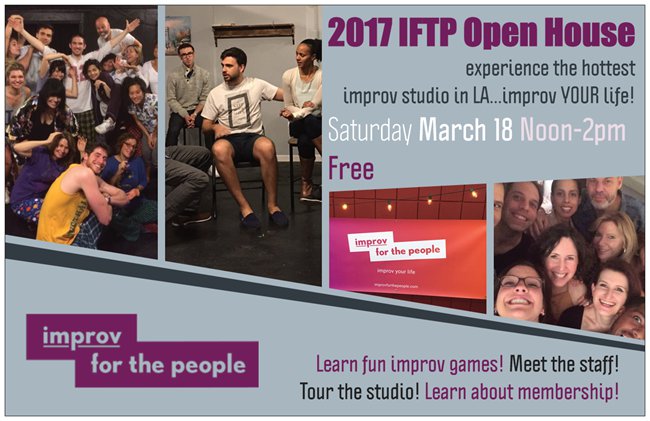 ---
Schedule your first audit class today! (No charge!):